With the AFL UTM Tracker plugin, you can now extract custom parameter from our list of supported tracking URLs in Gravity Forms into a hidden field.
Since version:
This feature is supported since version 2.4.3.
List of supported tracking URLs:
First landing page
First website referrer
First and last touch UTM URL
Last touch gclid, fbclid, msclkid URL
Steps
Go to your Gravity Forms > Form > Edit mode.
Add a Hidden Field to the form.
Under the Field Settings > Advanced > Click on Allow field to be populated dynamically.
Type in the Parameter name as listed below.
Example:
You want to extract the matchtype parameter from the Last Touch UTM URL.
afl_wc_utm:utm_url--extract_param:matchtype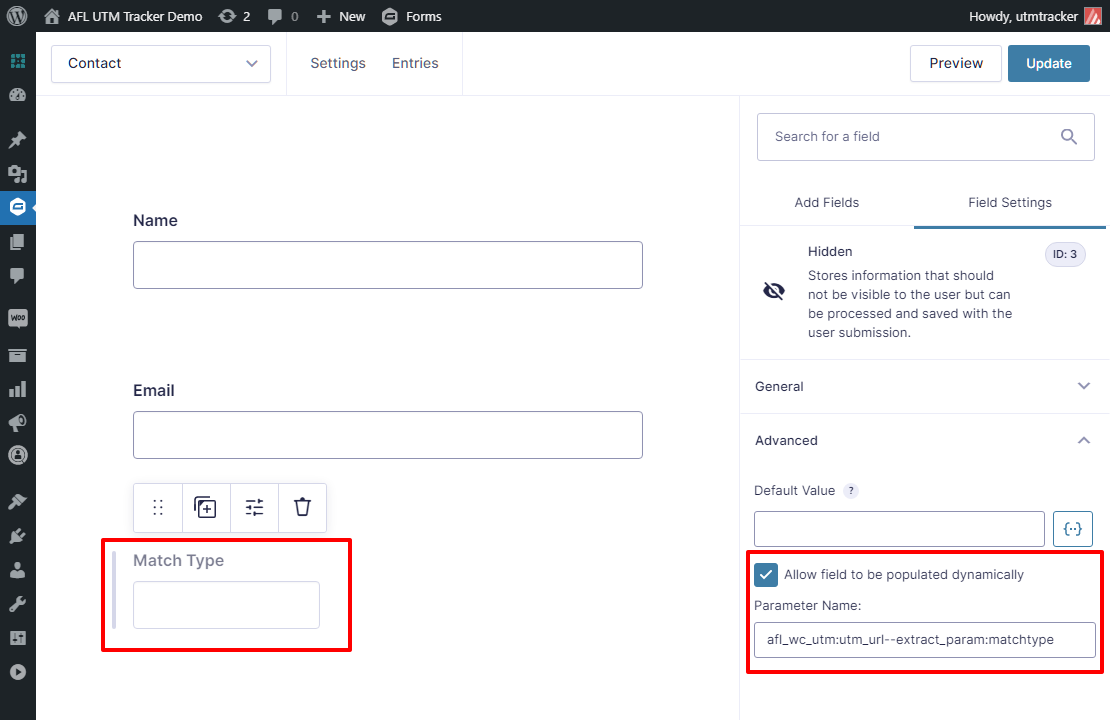 List of tracking URL parameter names
First Landing Page
afl_wc_utm:sess_landing
First Website Referrer
afl_wc_utm:sess_referer
First Touch UTM URL
afl_wc_utm:utm_1st_url
Last Touch UTM URL
afl_wc_utm:utm_url
Last Touch gclid URL
afl_wc_utm:gclid_url
Last Touch fbclid URL
afl_wc_utm:fbclid_url
Last Touch msclkid URL
afl_wc_utm:msclkid_url
More examples
You want to extract affiliate_id parameter from the First Landing Page URL:
afl_wc_utm:sess_landing--extract_param:affiliate_id
You want to extract the ad_id from the First Touch UTM URL:
afl_wc_utm:utm_1st_url--extract_param:ad_id
You want to extract Last Touch UTM Source. You do not need to use the extract_param formula because we have extracted it by default into our conversion attribution report.
But if you would still like to populate the utm_source value into a hidden field, you can use the parameter name below:
afl_wc_utm:utm_source

afl_wc_utm:utm_1st_source