If you wish to use our AFL UTM Tracker plugin with a non-supported Fluent Forms Add-ons, you would need to create hidden field and use the default value feature.
You do not need to set this up for most of Fluent Forms official add-ons.
Steps
Go to your Fluent Forms > All Forms page.
Edit a Form.
Under the Advanced tab > Select the Hidden Field component.
In the Admin Field Label type Last UTM Source.
In the Default Value, type afl_wc_utm:utm_source.
In the Name Attribute, type utm_source.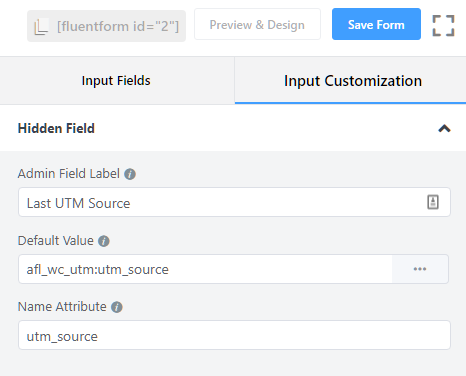 List of Default Values
Take note that you can access two types of URL values:
a full URL with all query parameters
a clean URL without any query parameters.
== SESSION ==
Conversion Type:
afl_wc_utm:conversion_type
Conversion Lag:
afl_wc_utm:conversion_lag_human
Conversion Lag (seconds):
afl_wc_utm:conversion_lag
Conversion Date:
afl_wc_utm:conversion_date_local
afl_wc_utm:conversion_date_utc
afl_wc_utm:conversion_ts
Visit Date:
afl_wc_utm:sess_visit_date_local
afl_wc_utm:sess_visit_date_utc
afl_wc_utm:sess_visit
Landing Page URL:
afl_wc_utm:sess_landing
afl_wc_utm:sess_landing_clean
Website Referer URL:
afl_wc_utm:sess_referer
afl_wc_utm:sess_referer_clean
Google Analytics Client ID:
afl_wc_utm:sess_ga
Cookie Consent:
afl_wc_utm:cookie_consent
== UTM CAMPAIGN (FIRST TOUCH) ==
UTM URL:
afl_wc_utm:utm_1st_url
afl_wc_utm:utm_1st_url_clean
Visit Date:
afl_wc_utm:utm_1st_visit_date_local
afl_wc_utm:utm_1st_visit_date_utc
afl_wc_utm:utm_1st_visit
UTM Source:
afl_wc_utm:utm_source_1st
UTM Medium:
afl_wc_utm:utm_medium_1st
UTM Campaign:
afl_wc_utm:utm_campaign_1st
UTM Term:
afl_wc_utm:utm_term_1st
UTM Content:
afl_wc_utm:utm_content_1st
== UTM CAMPAIGN (LAST TOUCH) ==
UTM URL:
afl_wc_utm:utm_url
afl_wc_utm:utm_url_clean
Visit Date:
afl_wc_utm:utm_visit_date_local
afl_wc_utm:utm_visit_date_utc
afl_wc_utm:utm_visit
UTM Source:
afl_wc_utm:utm_source
UTM Medium:
afl_wc_utm:utm_medium
UTM Campaign:
afl_wc_utm:utm_campaign
UTM Term:
afl_wc_utm:utm_term
UTM Content:
afl_wc_utm:utm_content
== Google Click Identifier (gclid) ==
URL:
afl_wc_utm:gclid_url
afl_wc_utm:gclid_url_clean
Visit Date:
afl_wc_utm:gclid_visit_date_local
afl_wc_utm:gclid_visit_date_utc
afl_wc_utm:gclid_visit
gclid Value:
afl_wc_utm:gclid_value
== Facebook Click Identifier (fbclid) ==
URL:
afl_wc_utm:fbclid_url
afl_wc_utm:fbclid_url_clean
Visit Date:
afl_wc_utm:fbclid_visit_date_local
afl_wc_utm:fbclid_visit_date_utc
afl_wc_utm:fbclid_visit
fbclid Value:
afl_wc_utm:fbclid_value
== Microsoft / Bing Click Identifier (msclkid) ==
URL:
afl_wc_utm:msclkid_url
afl_wc_utm:msclkid_url_clean
Visit Date:
afl_wc_utm:msclkid_visit_date_local
afl_wc_utm:msclkid_visit_date_utc
afl_wc_utm:msclkid_visit
msclkid Value:
afl_wc_utm:msclkid_value