To fully take advantage of our AFL UTM Tracker plugin, you need to learn how digital marketers use the UTM tracking URL across all their marketing channels.
You will be generating a unique tracking URL for each marketing channel and campaign.
There are many free generator tools on the internet but we recommend using Google's Campaign URL Builder (screenshot below).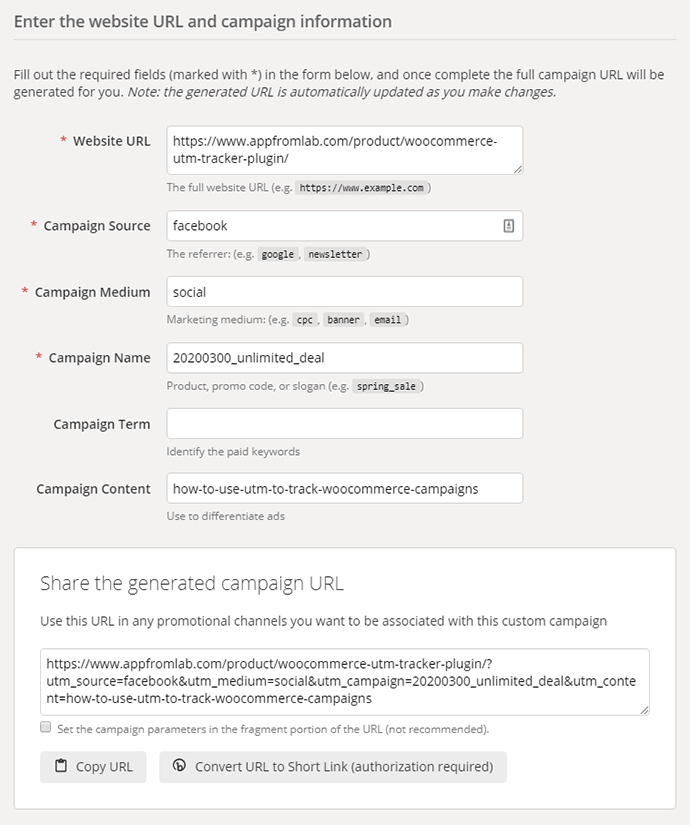 The UTM tracking URL consist of 5 parameters which are added to your website page URL.
utm_source
(required)
Where are your visitors coming from?
E.g google, facebook, newsletter, linkedin
utm_medium
(required)
How the campaign was published / sent out?
E.g email, post, article, page, cpc, social
utm_campaign
(required)
What's the name of your campaign?
E.g black_friday_sale, new_year_sale
utm_term
What's the keyword term use in paid search?
Use for paid search to identify keyword terms
utm_content
Use for A/B testing or to differentiate content
E.g logo, text, image, button
Tips
Use only lowercase alphanumeric (a-z and 0-9) characters for words.
Use dashes or underscores to replace spaces between words.