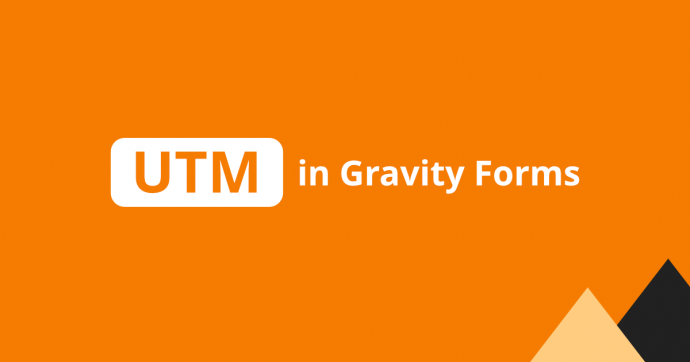 In our AFL UTM Tracker plugin version 1.25, you'll be able to dynamically populate the UTM parameters in your Gravity Form Fields if you plan to send the UTM parameters to third-party services like Zapier and Hubspot CRM.
But starting version 2.0.2, you no longer need to do this because you can now easily map the UTM parameters in the feed using the dropdown menu.
You only need to follow the tutorial below if you're using a non-official Gravity Forms Add-ons which does not support the Gravity Forms Add-on Framework.
How to dynamically populate UTM parameters?
This is an example for creating a UTM Source field.
Start by adding a Hidden Field to your Gravity Form.
Set the Field label to UTM Source.
In the "Advanced" tab, check the "Allow field to be populated dynamically".
Underneath it, set the Parameter Name as afl_wc_utm:utm_source.
Repeat by creating Hidden Fields for other UTM parameters.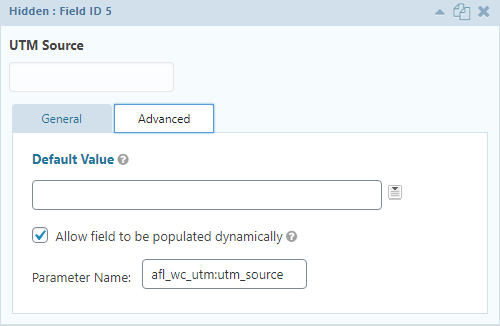 List of available parameter names
Copy and paste only the parameter names which you are interested into your Hidden Field. Give an appropriate text label for each of the Hidden Field.
== SESSION ==
Conversion Type:
afl_wc_utm:conversion_type
Conversion Lag:
afl_wc_utm:conversion_lag_human
Conversion Lag (seconds):
afl_wc_utm:conversion_lag
Conversion Date:
afl_wc_utm:conversion_date_local
afl_wc_utm:conversion_date_utc
afl_wc_utm:conversion_ts
Visit Date:
afl_wc_utm:sess_visit_date_local
afl_wc_utm:sess_visit_date_utc
afl_wc_utm:sess_visit
Landing Page:
afl_wc_utm:sess_landing
afl_wc_utm:sess_landing_clean
Website Referer:
afl_wc_utm:sess_referer
afl_wc_utm:sess_referer_clean
Google Analytics Client ID:
afl_wc_utm:sess_ga
Cookie Consent:
afl_wc_utm:cookie_consent
== UTM CAMPAIGN (FIRST TOUCH) ==
UTM URL:
afl_wc_utm:utm_1st_url
afl_wc_utm:utm_1st_url_clean
Visit Date:
afl_wc_utm:utm_1st_visit_date_local
afl_wc_utm:utm_1st_visit_date_utc
afl_wc_utm:utm_1st_visit
UTM Source:
afl_wc_utm:utm_source_1st
UTM Medium:
afl_wc_utm:utm_medium_1st
UTM Campaign:
afl_wc_utm:utm_campaign_1st
UTM Term:
afl_wc_utm:utm_term_1st
UTM Content:
afl_wc_utm:utm_content_1st
== UTM CAMPAIGN (LAST TOUCH) ==
UTM URL:
afl_wc_utm:utm_url
afl_wc_utm:utm_url_clean
Visit Date:
afl_wc_utm:utm_visit_date_local
afl_wc_utm:utm_visit_date_utc
afl_wc_utm:utm_visit
UTM Source:
afl_wc_utm:utm_source
UTM Medium:
afl_wc_utm:utm_medium
UTM Campaign:
afl_wc_utm:utm_campaign
UTM Term:
afl_wc_utm:utm_term
UTM Content:
afl_wc_utm:utm_content
== Google Click Identifier (gclid) ==
URL:
afl_wc_utm:gclid_url
afl_wc_utm:gclid_url_clean
Visit Date:
afl_wc_utm:gclid_visit_date_local
afl_wc_utm:gclid_visit_date_utc
afl_wc_utm:gclid_visit
gclid Value:
afl_wc_utm:gclid_value
== Facebook Click Identifier (fbclid) ==
URL:
afl_wc_utm:fbclid_url
afl_wc_utm:fbclid_url_clean
Visit Date:
afl_wc_utm:fbclid_visit_date_local
afl_wc_utm:fbclid_visit_date_utc
afl_wc_utm:fbclid_visit
fbclid Value:
afl_wc_utm:fbclid_value
== Microsoft / Bing Click Identifier (msclkid) ==
URL:
afl_wc_utm:msclkid_url
afl_wc_utm:msclkid_url_clean
Visit Date:
afl_wc_utm:msclkid_visit_date_local
afl_wc_utm:msclkid_visit_date_utc
afl_wc_utm:msclkid_visit
msclkid Value:
afl_wc_utm:msclkid_value