Description
It is a lightweight WordPress plugin for conversion attribution. You'll discover your visitors UTM campaign parameters, first landing page and website referrer whenever they have performed a conversion on your website like a user sign-up, purchasing your store products or submitting a lead generation form.
How the plugin works?
When your website visitor visits your website, the plugin will use the browser cookies to start tracking your visitor for 90-days. It will collect attribution data like when did the visitor first visited your website, the first landing page, website referrer and the most important of all are the UTM campaign parameters.
When the visitor performs a conversion, it creates an attribution report for that particular conversion event and stores it in your WordPress database.
Easily see which UTM campaign is bringing in your orders today
You can easily view Conversion Lag value, first & last touch UTM parameters and click identifiers. Nothing is more satisfying than knowing you have implemented a successful marketing campaign.
Get the full conversion attribution report in your WooCommerce order page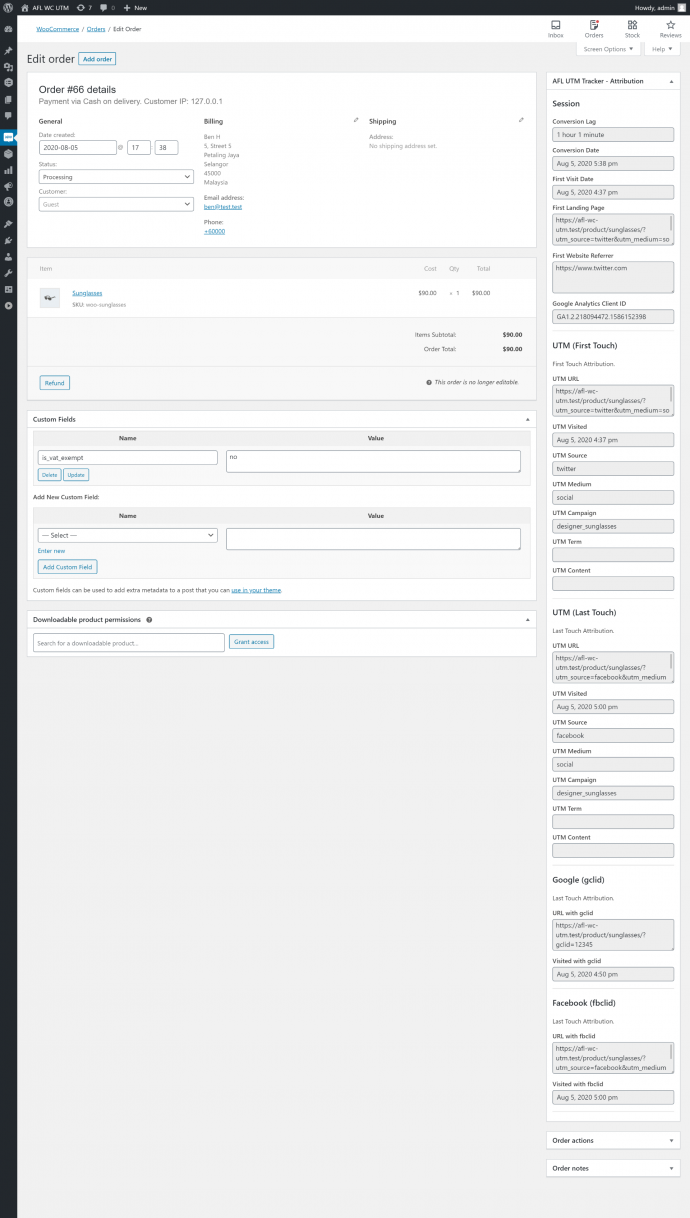 A comprehensive conversion attribution report that tells you the landing page that your customer visited the first time, the website referrer, first & last touch UTM parameters and whether the customer came to your website via a click identifier like Google Ads (gclid) or Facebook (fbclid).
Works with Gravity Forms. Now even your lead forms can have conversion attribution report.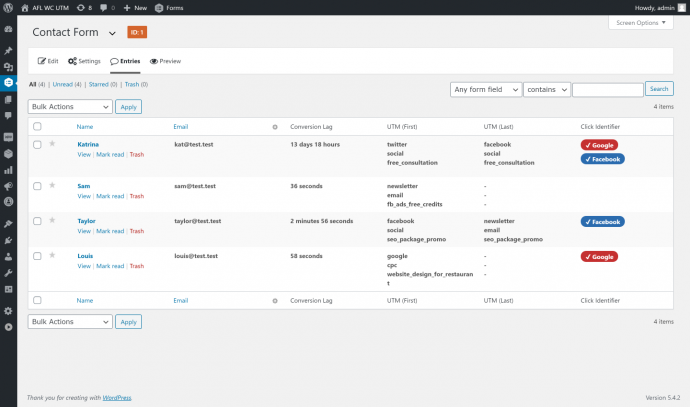 Do you have hundreds of forms? No worries. Once installed, conversion attribution will be enabled automatically and works in background. Compared to other plugins in the market, you do not need to create any form fields at all with our plugin. You can also map the attribution data to third-party services like Zapier.
Benefits of using the plugin
Zero-setup compared to setting up Google Analytics to track your conversions.
You can find out which of your marketing campaigns contributed to conversions.
You'll find out which landing page converted your visitors into customers.
You'll know which website referred the visitor to your website.
You'll know if the user converted organically through search engine or direct.
Does not require you to connect to expensive third-party attribution services that limits you by number of users or events.
You own all the attribution data. Keep it forever.
Basic Features
Captures user's first visit date and landing page.
Captures the user's referrer traffic.
Captures UTM parameters in urls.
Captures First & Last Touch UTM campaign URLs.
Captures user's Google Analytics client id (_ga).
Captures Google Click Identifier (gclid).
Captures Facebook Click Identifier (fbclid)
Capture Microsoft / Bing Click Identifier (msclkid)
Captures visited date and time.
Calculates conversion lag (time for user to convert)
Change cookie expiry length settings.
Set cookie domain for cross-subdomain tracking.
WordPress Features
Conversion attribution report for user registration.
View conversion attribution summary in the Reports page.
View full conversion attribution report in the User Report page.
Support cross-device attribution syncing for logged-in users.
View active attribution for logged-in users even when user has not converted.
Supports WordPress Multisite.
WooCommerce Features
Works in the background automatically. No setup required.
View conversion attribution summary in the Orders page.
View full conversion attribution report in the single Order page.
Set cookie expiry so a new session can begin after a new order has been placed.
Add conversion attribution report into WooCommerce Email templates.
Works with WooCommerce Zapier Order event.
Use third-party Order export plugin to export attribution values.
Gravity Forms Features
Works in the background automatically. No setup required or fields to be added for each form.
View conversion attribution summary in the Entries page.
View full conversion attribution report in the single Entry page.
Set conversion type (lead or order), cookie expiry time or disable conversion attribution for a form.
Add conversion attribution report into Gravity Forms Notification Emails.
Map conversion attribution fields with Gravity Forms Add-ons like Zapier.
Easily export conversion attribution fields.
FAQ
What does UTM stands for?
UTM stands for Urchin Tracking Module. It consists of 5 campaign parameters added to the query portion of a URL (utm_source, utm_medium, utm_campaign, utm_term and utm_content).
It is used in digital marketing to know where your website visitors are coming from and for which marketing activity.
Learn "How to use UTM to track WooCommerce campaigns?". UTM URLs can be used in your social media posts, newsletters, ads, sponsored content, marketing collateral and QR codes.
Does the plugin comes with one-click updates?
Yes, our plugin has one-click update through the WordPress admin panel.
Does it comes with updates & support?
Yes, account owners will receive plugin updates and e-mail support as long as the subscription is still active.
Do you have money-back guarantee?
Yes, we provide full refund in the first 30-days if our plugin is not working.
How to install?
Download the plugin from our website and install it through your WordPress admin dashboard. Then clear your page cache.
Does it work with just Gravity Forms?
Yes, the plugin works with just WordPress and Gravity Forms installed.
How long before the tracking cookies expires?
By default cookies will be stored for 90-days on the first visit. After the user registers or submit a Gravity Form, the cookie will be stored for 30-days. When the user has made an order, cookies will be stored for 7 days. This allow cookies to expire and creates a new tracking session for future orders. You can change the cookie expiry length on the plugin settings page.
Certain privacy-based browsers like Safari may force all cookie expiry to within 1 day if your domain is found to run cross-site advertising tracking. Our plugin includes a workaround to bypass that limit but future updates on the Intelligent Tracking Prevention (ITP) may prevent our plugin to use a longer cookie expiry date.
Third-party Plugin Integration
WooCommerce 3.6 or higher.
Gravity Forms 2.4.9.6 or higher.
Requirements
WordPress 4.5 or higher.
Requires website with HTTPS (SSL).
PHP 7 or higher
Changelog
View changelog here.