Description
*** A must-have plugin for marketing ***
What the plugin does?
The plugin's main objective is to track your marketing campaigns on your website and provide you with insights on why your users converted into customers.
It will start tracking your users up to 90-days upon the first visit using browser cookies. It will collect data like when did the user first visited your website, the first landing page, website referrer and the most important of all are the UTM campaign parameters.
When your user sign-ups, placed an order or submit a form, it saves these data so that you can analyze the campaign data in the WordPress admin dashboard.
Benefits of using the plugin
You can find out which of your marketing campaigns contributed to each of your user sign-ups, lead generation submissions and orders.
You'll find out which landing page converted your visitors into customers.
You'll know which website referred the visitor to your website.
You'll know if the user converted organically through search engine or direct.
Zero-configuration compared to setting up Google Analytics to track your conversions.
Features
Works with WordPress sign-ups.
Works with WooCommerce orders.
Works with Gravity Forms submission.
Captures user's first visit and landing page.
Captures the user's referer traffic.
Captures UTM parameters in urls.
Captures user's Google Analytics client id (_ga).
Captures first & last touch UTM campaign URLs.
Captures GCLID (Google Ads).
Captures FBCLID (Facebook Ads/Source).
Uses first-party cookies up to 90-days.
Supports WordPress Multisite.
Third-party Plugin Integration
WooCommerce 3.6 or higher.
Gravity Forms 2.4.9.6 or higher.
Requirements
WordPress 4.5 or higher.
Requires website with HTTPS (SSL).
For more information, please visit our informational page.
WooCommerce Order Page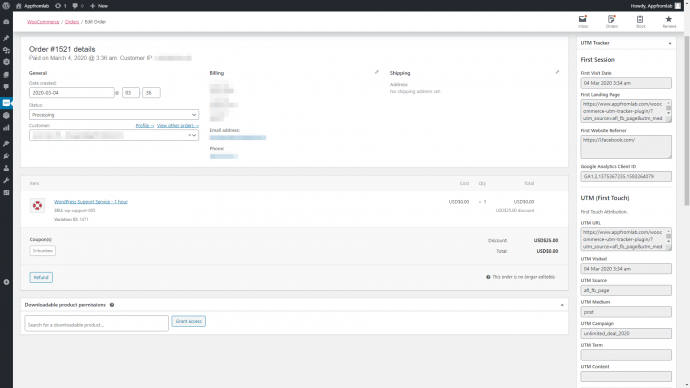 WordPress User Profile Page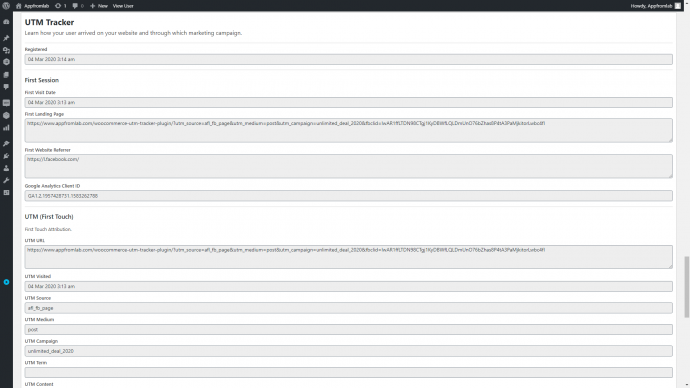 Gravity Forms Entries