WORDPRESS PLUGIN
WooCommerce
UTM Tracker
A must-have marketing tool that provides you with campaign insights to why each of your visitors converted into customers.
Track visitor conversion up to 90-days.
Discover successful marketing campaigns.
Captures first & last touch UTM campaign parameters.
Works with WordPress, WooCommerce, Gravity Forms.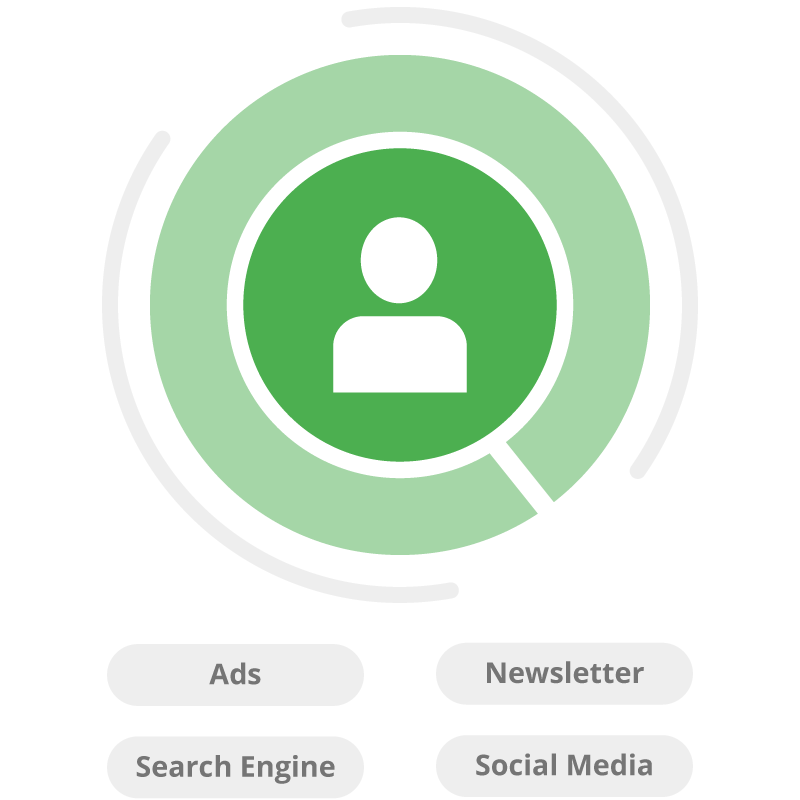 Shows captured UTM parameters in a metabox for each user, lead & order.
Our customers love the campaign insights.
With the captured campaign data, they were able to improved their sales conversion rate.
About the plugin
The plugin's main objective is to track your marketing campaigns on your website and provide you with insights on why your users converted into customers.
It will start tracking your users up to 90-days upon the first visit using browser cookies. It will collect data like when did the user first visited your website, the first landing page, website referrer and the most important of all are the UTM campaign parameters.
When your user sign-ups, placed an order or submit a form, it saves these data so that you can analyze the campaign data in the WordPress admin dashboard.
Features
Works with WordPress sign-ups.
Works with WooCommerce orders.
Works with Gravity Forms submissions.
Captures user's first visit and landing page.
Captures the user's referrer traffic.
Captures UTM parameters in urls.
Captures user's Google Analytics client id (_ga).
Captures first & last touch UTM campaign URLs.
Captures GCLID (Google Ads).
Captures FBCLID (Facebook Ads/Source).
Uses first-party cookies up to 90-days.
Supports WordPress Multisite.
Third-party integrations
WooCommerce 3.6 or higher.
Gravity Forms 2.4.9.6 or higher.
Requirements
WordPress 4.5 or higher.
Requires website with HTTPS (SSL).
Changelog
Read the full changelog here.
FAQ
What does UTM stands for?
UTM stands for Urchin Tracking Module. It consists of 5 campaign parameters added to the query portion of a URL (utm_source, utm_medium, utm_campaign, utm_term and utm_content).
It is used in digital marketing to know where your website visitors are coming from and for which marketing activity.
Learn
"How to use UTM to track WooCommerce campaigns?"
. UTM URLs can be used in your social media posts, newsletters, ads, sponsored content, marketing collateral and QR codes.
Does the plugin comes with auto-updates?
No, we don't have auto-update at the moment. You can download updates from our website. We are planning to implement auto-update in the future.
Does it comes with updates & support?
Yes, software downloads, updates and support are available to users with active subscription.
Do you have money-back guarantee?
Yes, we provide full refund in the first 30-days if our plugin is not working.
How to install?
Download the plugin from our website and install it through your WordPress admin dashboard. Then clear your page cache.
Does it work with just Gravity Forms?
Yes, the plugin works with just WordPress and Gravity Forms installed.
How long before the tracking cookies expires?
Cookies will be stored for 90-days on the first visit. After the user registers or submit a Gravity Form, the cookie will be stored for 30-days.
When the user has made an order, cookies will be stored for 7 days. This allow cookies to expire and creates a new tracking session for future orders.
Certain privacy-based browsers may force all cookie expiry to within 1 day if your domain is found to run cross-site advertising tracking. Our plugin includes a workaround to bypass that limit but future updates on the ITP may prevent our plugin to use a longer cookie expiry date.
WHY YOU SHOULD USE OUR PLUGIN?
You run multi-channel marketing but you have no idea if an order was successful because of an Ad or social media or newsletter.
Purchase Plugin →